Remember I told ya I have THEE MOST amazing sponsors? I wasn't kidding!!
Today I have the lovely Kimberly from A Night Owl! Check her out! And there just might be a little extra something for you at the end of her post… maybe!
*************************************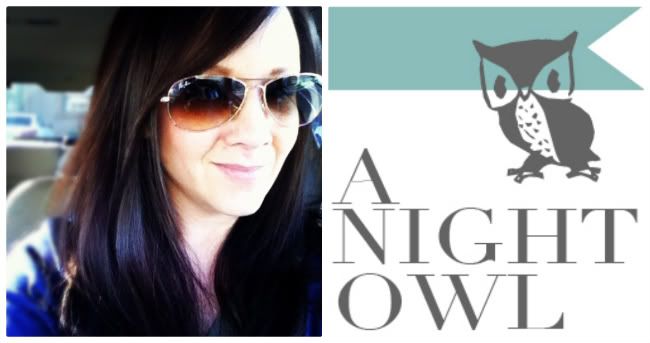 Hi, my name is Kimberly, and I'm an Instagram-holic.
What is Instagram you ask? Well if you haven't heard of it, it's a social media app that is just pictures! You can snap pics in the app or upload ones from your photo library, then use fun filters and borders within the app to post your pictures. You then can follow others' Instagram feeds and they can follow you! Now, I have to tell you that bloggers and indie business folk are hands down some of my FAVORITE peeps to follow! You can see sneak peaks of their upcoming projects and items in their store. So much creativity at work!
If I'm not pouring over my lovely Instagram feed (which I hope includes many of you!), you might also find me blogging it up over at A Night Owl, my blog about the evening antics of a working mom! I'm a wife to my best friend Andre, and a mother to two adorable boys, AJ and Alex. By day I'm a task-master project manager, but by night, in my "spare time" I enjoy crafting, photography, thrifting, parties or a quick and easy recipe here or there. And over the last few months I have really enjoyed sharing this aspect of my life with all of you! I love to connect with new friends and would love for you to come by and introduce yourself!
But back to Instagram. If you visit A Night Owl on any given week, you'll find at least two posts relating to Instagram. First is our Instagram Blog Hop + Giveaway which is held every Tuesday. There you can link up your Instagram URL (like mine here —> http://web.stagram.com/n/anightowlblog/), find new FUN IG friends, and enter a fun giveaway each week.

Next is InstaFriday. There, each Friday, I share my week according to Instagram, which typically is a recap of the #photoaday projects i'm participating in. Heard of #photoaday? I think the craze started primarily with blogger Fat Mum Slim, and I've been doing her fun challenges since January. However, there have been others to come up with other lists that I've been trying on for size the last couple of months as well. Here's the prompt list for May. You basically just take a picture of the given prompt each day and if you're in Instagram, just hashtag it with "#photoadaymay" and that way you can see what others who are participating post as well!
*****************************************************************
If you're on Instagram be sure to join in on all the fun!
I JOINED THE BANDWAGON! You can now find me on Instagram
@kristinefoley is my username, original I know (wink).
Be sure to check out all of Kim's FABULOUS-NESS! She rocks my socks off and I know she'll do the same for you!! She's sharing the love with a
EASY ENTERING with rafflecopter!
Please note the first 3 entries are MANDATORY. Complete those mandatory entries and you will unlock even more ways to get MORE!!
Good luck lovelies!